A Holistic Wellbeing of an Individual by Nourishing Their Mind, Body & Soul
SpirEat Nutrition Clinic is one of the few sports nutrition clinics in the country. SpirEat means Nourish Your Soul. It delivers online nutrition counseling which beliefs in optimum health & fitness to each individual in their comfort zone. SpirEat dreams of making every individual HEALTHY & every athlete A CHAMPION with the Right & Holistic Nutrition Approach.  We wish to reach every individual either a kid or adult and motivate them to start some sort of physical activity or a sport along with the right diet by "Making Healthy Food Choices & Not Restrictions".
About Founder – Shreya Adhav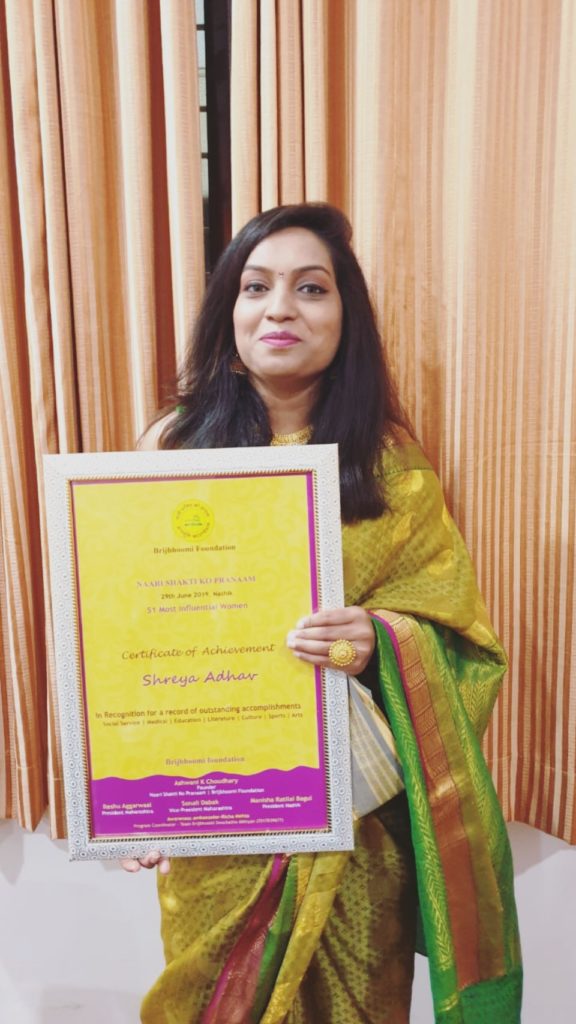 Shreya Adhav has completed her Bachelor's in Nutrition and Dietetics from SNDT University (Mumbai) and Masters in Sports Nutrition from College of Home Science, Nirmala Niketan (Mumbai). Her keen interest lies in Sports Nutrition but she does handle cases of Clinical, Kids, and Geriatric, Medical Care Nutrition. She is Awarded as one among 51 Most Influential Women in Nashik/ North Maharashtra. Nominated for Deeshdoot Karmayogini Puraskar 2019 & Rising Nutriprenuer Award 2019 hosted by Indian Dietetic Association (Mumbai Chapter).
Head of Nutrition at Midline Kabaddi Academy & Nutrition Consultant at Dr. Pimprikar's Sports Med Rehab, Nasik.

Interned at Ruby Hall Clinic, Pune and Qi Life Care Gym, Mumbai and has hands-on Therapeutic and Fitness Goal Oriented Diet and Nutrition Strategies. 

Part of a medical team with the Asian Heart Institute during the Mumbai Marathon (2013). Also has experience in Phase II and III Cardiac Rehabilitation Program at the Preventive Cardiology Department, Asian Heart Institute City Centre, Mumbai. 

Part of a Sports Nutritionist in events like Goa Marathon and Goa Triathlon. Conducted a seminar for the group of Nasik Marathon Runners named ActiveNRG on Burn Fat the Right Way, For Swimmers of Rotary Club, Belgaum, for Marathon Runners Participated in Lokmat Nashik Mahamarathon and for Triathletes participated in Deccan Triathlon.

Actively participated as a Sports Nutritionist at National Swim Meet happened at Balewadi, Pune

Marathon Runner Herself & Completed Run Circuit Organised by Lokmat held in Nashik, Aurangabad, Nagpur & Kolhapur from October 2017 – February 2018. Stone Ridge Valley Marathon, Decathlon Run, Fearless Run organized by Pinkathon Nasik, Nasik Marathon finisher in 2018-2019. 

Panelist with the RAAM (Race Across America) & Ironman Qualifier and Finishers to share her views on Sports Nutrition in Long Endurance Events at 2nd Thane Cycle Summit 2019.

Actively Participated in the Venue Committee for the International Conference on Enhancing Health, Wellbeing, and Sustainability- Opportunities, Challenges and Future Directions held at Nirmala Niketan College of Home Science, Mumbai on 10th-12th January 2013. 

Moderated & Attended International Conference on Nutritional Science & Food Technology 2018 happened in Rome, Italy in July 2018.

Hosted Session for Students at GISB (Global Institute of Sports Business) Mumbai, For Athletes for Athletics & Basketball Camp organized by Corvuss Academy, Mumbai in 2019.

She has hosted a number of Nutrition Seminars for Sports Coaches, Kids, Athletes, General Population and for Corporates.

A Lifetime Member of Indian Dietetic Association (IDA -Mumbai Chapter) and Nashik Nutrition Forum

Published a few articles in the Lokmat Times newspaper, Times of India's Nasik Plus Edition and Food Panda Magazine on Sports Nutrition, Tips for Weight Loss, Pre Race Nutrition etc.  

Her Motto is to create awareness among people that they should "Create Healthy Habits, Not Restrictions"
Sports Nutrition is most important aspect of Sports Performance but it's most neglected. Fortunate to work with Shreya Mam of SpirEat. It's a unique place where passion for Sports is backed up by scientific approach of Sports Nutrition.
Mr. Prasanna Choudhari,
MD -Nutra Supplements